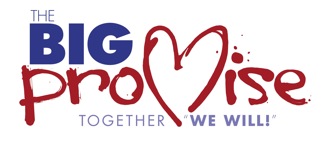 Embargoed until 7-2, 18;00
Marriage vows are the most long term promises we ever make – to love and care for someone else for the rest of our lives!
They are a commitment to put someone else's interests as equal to our own, and they involve setting aside our own short term "wants" for long term stability and satisfaction.  They are life changing – and have a huge impact on the way our lives work out. For those that make them they are "the BIG Promise".
Every year Marriage Week is a chance to celebrate and say thank you to all the couples who have had the courage to make such promises, and a chance to encourage them to keep going!  One way couples have found helpful is to have the chance to re-affirm their vows to each other – to say, and hear, the promises all over again!
World Record Attempt
There are world records for everything – from 100m running to tiddlywinks!! And there's a world record for couples re-affirming their vows – 1,087 couples at Miami University, Oxford, Ohio, USA, in 2009.  On Saturday 8th Feb 2014, we intend to smash that record, with couples at venues across the UK simultaneously re-affirming their vows – tens of thousands of couples saying to each other all over again "We will!!"  The ceremony could be part of a church service, or the start of a great party – what happens next is up to you! It's a chance to engage with your community, and to celebrate!
Momentum is building!
Already there are individuals and churches from the South Coast to Inverness, from Norwich to Warrington, ready to take part.  We want individuals and marriage venues to sign up to get involved by running local events. Perhaps you can engage your local church, or registry office to put on an event, or perhaps you could work with others in your town to make it an event for your whole community.
What do I have to do?
To find out more, sign up below to receive our regular emails that will build into a complete manual covering every aspect of what you need to be part of "the BIG Promise".