Marriage Week 2017 – and before
In 2017 Marriage Week celebrated its twentieth anniversary!
Photo: David Burrows MP addressing the House of Commons
On February 1, 2017 David Burrowes MP organised a Westminster Hall debate, entitled 'Marriage Week', in anticipation of the week. During his speech he welcomed the aim behind Marriage Week – to draw attention to the importance of marriage for individuals, family life and civil society – and asked the Minister Caroline Nokes MP about the Government's plans to promote Marriage Week.The Minister responded by saying that Marriage Week provides a great opportunity to celebrate the commitment and connectedness that a stable relationship brings to a ​family and assured that her Department intends to continue to work very hard to ensure that marriage gets the support it needs to continue being a strong bedrock for families and children. You can read the whole debate transcript here.

Photo: Prof Brad Wilcox and Sir Paul Coleridge at the launch of the study
The study found that the United Kingdom has among the highest rates of family instability in the developed world. Commenting on the study, Professor Wilcox said: "We know that children thrive on stable routines with stable caregivers. This study provides fresh evidence that cohabitation is less likely to deliver such family stability to children, compared to marriage."
The study was also picked up by the media. For example, the Daily Mail ran a story on the findings and Professor Wilcox was interviewed on BBC One Breakfast morning show.
Durings his visit to the UK Professor Wilcox also met with a number of MPs to discuss the findings and their implications for individuals affected by family breakdown as well as the effects on British society as a whole.

And a bit of history . . .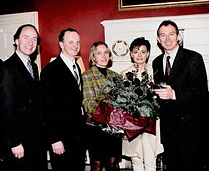 Marriage Week has always been a collaborative project drawing on a range of organisations and networks to be successful. Right from year one, 1997, its strength has been the combination of national and local media events that have sought to strengthen and celebrate marriage.
The project was started by Richard and Maria Kane while Richard was national director of charity, Marriage Resource.
Marriage Week UK celebrates the diversity and vibrancy of marriage as the basis for family life in the UK. It is timed to finish on Valentine's Day (ie, February 7–14) and has been held every year since 1997. It has attracted the support and attention of a host of political, religious and media figures.
From Marriage Week 2017 and beyond, Marriage Week UK became a project of Marriage Foundation.
Marriage Week UK operates within the framework of Marriage Week International which is coordinated by The Future Way Trust which is spearheading the development of Marriage Week in other nations.