'The best thing to hold onto in life is each other.' – Audrey Hepburn.
Let me take you back to Summer 2013…I was 16 years old, and having just moved 300 miles away from where I grew up with my family, I was about to start a new school. I was feeling scared and vulnerable; moving to a new school in a new town so far away is not easy when you're 16! There is absolutely no question that I am an introvert, and so the prospect of starting a school where I knew nobody at all was slightly terrifying. However, I count myself incredibly lucky that I got waved over by some people on my first day who noticed me wandering about by myself, and they adopted me straight into their friendship group. This is where our story starts…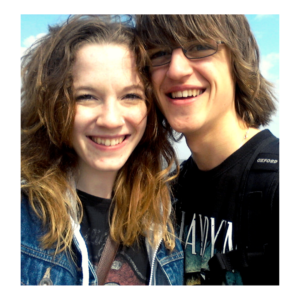 Peter and I first became friends after bonding one lunchtime over the fact that we are both drummers (I must stress I use that term very loosely when it comes to myself – Peter is the pro!), and it was our mutual love of music, Peter's struggle with simultaneous equations and my love of maths that helped our friendship to grow rapidly. It wasn't long before we became boyfriend and girlfriend, and for us the L-word followed in quick succession. There is no simple explanation to the question 'how did you know?', but for me one of the biggest reasons was that my self-confidence had rocketed since we met, and it was the first time I'd felt like 'me' in years. I suffer with anxiety, and because Peter had no experience of it himself, he made every effort to listen and try to understand it. This had a huge impact on me, and although I still struggle with anxiety I feel so safe and supported with Peter; this is why I love the Audrey Hepburn quote at the top of this post so much – although my mind often feels out of control and can be scary sometimes, I know that I can always count on Peter.
When I asked Peter the question 'how did you know that you loved me?', he mentioned the fact that he was prepared to go long-distance, despite his gut feeling at the time being that it would be too difficult. When I got accepted into Edinburgh University we had been together for almost 4 years, and the transition was not easy. We were accustomed to seeing each other almost every day and so to suddenly be standing outside my parents' car after we'd played Tetris with my mountain of possessions saying "see you in 3 weeks" was one of the hardest moments in our relationship. For us, the most important part of making the distance easier to deal with was effective communication. This is different for everybody, but for us video calling, phone-calls and frequent visits have been absolutely key, even if the phone-call is a 5 minute chat about how our days were it makes the world of difference.
One of the barriers to effective communication currently I feel is social media. I do not dispute that social media can be great, but have you ever been sitting in a restaurant and noticed how many people are sitting on their phones rather than talking to each other? For Peter and I we try to limit our phone usage when we are together, especially if we are out. Going out for a meal is one of our favourite things to do because our phones do not make an appearance and we end up chatting about anything and everything. Having currently been together for 6 years, I can say for sure that communication has been one of the things that has kept us together – the way we talk to each other is constantly changing and evolving and there will always be new challenges but our rule is that as soon as you have a problem, bring it up. Don't sit on anything! Very early on in our relationship, there was a week where we were not together any more due to a build up of bottled up emotion, stress of A-level exams and a lack of communication between us both. This time apart was a turning point for us as we realised just how much we meant to each other and how vital it was that we communicate better. From the moment we decided to 'give it another go' and agreed that things would need to change moving forward, we have not even come close to that point again and it is like it never happened.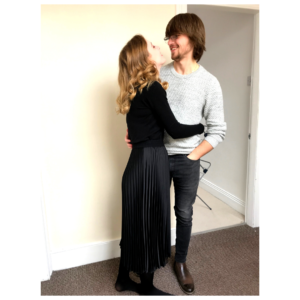 Fast forward to the present day and we have just got engaged! Getting married is something that we knew was in our future, but even after 6 years I was still shocked when he popped the question! There have been quite a few mentions of 'about time' and 'finally', but for us it is just the right time. We have been together since we were 16 and have survived the most turbulent periods of our lives together so far, we have grown up and changed together and now we are ready to enter the next stages of our lives together. In Peter's words, he said that there are a lot of things in his life at the moment that are turbulent and undecided, but one thing he is sure about is that he wants to spend his life with me, and that he wants to make those decisions and ride through the turbulence together. This describes perfectly our reasons for wanting to make that commitment and become husband and wife – while so many things in our lives will continue to be challenging and undetermined our love remains a constant we can count on, so we will continue to grow, laugh and go on adventures together, and we couldn't be more excited.