I'm sometimes asked questions about our wedding day – how did I feel walking down the aisle? Did I have any pre-ceremony nerves? Did my head feel like it was going to explode or was I as cool as a cucumber?
The truth is that I was incredibly calm on the morning of our wedding. Nothing fazed me. I had fun with my bridesmaids, we had the most delicious breakfast together and I enjoyed every moment of getting ready to be a bride. I smiled and laughed walking down the aisle to my future husband and the thought of tears couldn't have been further from my mind. That is, until we began to say our vows, specifically 'in sickness and in health'. But to understand that, I need to rewind nine months earlier, to when we began a journey that we never thought we'd have to walk.
One morning, nine months before we got married, and around the time that my fiancé, Luke was getting ready to move to Cardiff (we'd met online and dated long-distance for a year) I noticed that my hands were stiff. I'd recently helped a friend put together a house's worth of flat-pack furniture and had also been doing some light weights at the gym, so I put the aches down to a mixture of those two things. Those aches, however, didn't disappear. In fact, they only got worse. What started in my wrists moved to my ankles. My upper arms became painful, quickly followed by my thighs and calves until almost every muscle and joint in my body hurt. I struggled to get dressed, driving became difficult and even walking was a challenge. I saw doctor after doctor and was given a different diagnosis each time – no one could work out what was happening to me.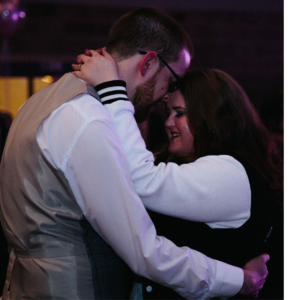 Amongst all of this, Luke moved to Cardiff and lived with close friends of ours until we got married. There were some things that he couldn't do for me but everything he could do, he did. Not only did Luke take on so much in a home that wasn't even his yet (he cooked for me, did my washing, cleaned my flat and so much more) but he stood with me emotionally, never giving up that we would get to the bottom of the issue and that I would be well again.
Fast forward three months and my health was still deteriorating. The doctors couldn't work out what was wrong and I was struggling to believe that things would ever get better. I remember sitting on the sofa with Luke, who said to me, "Get up and walk around for a bit. If you sit here for too long your legs are going to get stiff and you're going to be in a lot of pain". I went to stand up and realised that I couldn't. Luke quickly realised from the horror on my face that I couldn't move my legs. I was taken to hospital and spent 12 hours, alone, waiting for a bed, unable to stand, petrified that I would never walk again. Thoughts raced through my mind about our wedding day that was just 24 weeks away and the life we'd planned together. Would I need to be pushed down the aisle in a wheelchair? Would I ever be able to walk again? What would happen to the new job that I'd only started eight weeks ago? Would I be able to drive? How would this impact my ability to have and raise children?
Throughout all of this Luke remained strong and certain in his choices. He was still excited to be my husband. Everything may change, but nothing would change. We would still build a life together and we would still have a family. We would overcome each barrier as we faced it and we would face them together.
It wasn't smooth sailing but the good news is that after countless tests and every scan imaginable, I was finally given a diagnosis. At last we knew what we were facing. I was diagnosed with having a very rare autoimmune disease, one which most doctors have only ever seen in a textbook. I was one of only 600 people in the UK that had this disease – no wonder it had been hard to work out! I was given a range of medication and within a few days I was able to walk again. Within two weeks I was able to drive again. Slowly but surely, I began to regain the strength that I had lost. And through it all, Luke was there by my side, cheering me on, wiping my tears when I was overwhelmed and speaking life and love to me when all I could see was disappointment and fear.
I'm thrilled to say that I walked down the aisle on our wedding day independently and pain-free. However, I also walked down that aisle over three stone heavier that I would have liked. Significant weight gain and 'moon face' are a very unwelcome side effect of my treatment and I would be lying if I said that I didn't struggle with the ideal of how I wanted to look on my wedding day versus the reality of how things were. But right next to me was Luke, consistently reminding me that I was beautiful, loved and valued and that no medication side effect could change that. When I look back at my wedding photos I choose to see Luke's faithfulness and kindness, not a dress size.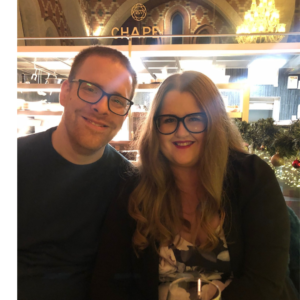 As we stood opposite each other, promising to love one another for better and for worse, I shed many a tear. Why? Because this was the reality of what we'd already been living for the past nine months. If Luke could willingly and lovingly stand by me through the darkest days of my life then there was nothing that we couldn't face together.
Since then, there have been many days of sickness and many days of health. We're still on this journey and it's likely that we'll remain on it for many years to come. But it's a journey that I've grown to love and as strange as this may sound, I'm grateful for it.