Your wedding day is special to you and your partner no matter how big or small the budget, so of course you are going to want it to reflect your values. Many couples are considering their environmental impact when planning their wedding. Guides for Brides look at how you can plan a wedding that is eco-friendly on a modest budget.
Establish the priorities
Planning a sustainable wedding is achievable on a modest wedding budget, you just have to do your research, be clever with your wedding budget and be conscious of what matters most to you about your eco-friendly wedding day.
Start your planning by sitting down with your partner and discussing the elements of your wedding that will mean the most to you both on the day and after. This will help you to prioritise where you spend your budget.
Do you want to be surrounded by friends and family, or would you like to keep it intimate? Is there a particular element of the day you've always dreamed about that takes priority over others? Having an open conversation about this will help you to choose what matters most to you and help you spend your budget effectively.
There is no right or wrong answer here. Your wedding day should be about celebrating the union of you and your partner and the event needs to reflect your needs, wishes and values as a couple.
Factors to consider when planning a sustainable wedding
Local Wedding Venue
One of the major factors of reducing your wedding carbon footprint is reducing the distance your guests will need to travel. This applies to both the wedding party and guests. When choosing your wedding venue, consider staying more local to your home or choosing a location that will avoid the majority of the attendees from needing to travel a great distance.
The Guides for Brides wedding venue finder can help you find a venue within a chosen distance of a town or postcode. Plus, you can also filter by budget, features, venue type and more to really find a venue that fits your needs as a couple.
Live Streaming and Virtual Attendance
The more guests you have at your wedding, the higher the cost and the higher the carbon footprint. With this in mind, when coming up with your guest list, consider extending a virtual invitation to those who live further afield or who you perhaps aren't as close with but really want to invite.
You can then set up a live stream of the ceremony, speeches and any other elements of the day you want everyone to be present for.
Rent Suits and Dresses or Buy Second-Hand
It is now easier than ever to find great wedding attire for your entire bridal party that can be rented or purchased second-hand. Not only will this be cheaper for you and avoid relying on fast fashion brands, it will reduce your event's carbon footprint.
The Pre-Loved Wedding Dress
In terms of wedding dresses, you'll be surprised at how easy it is to find sustainable wedding dresses. One of the most common options is to buy a pre-loved wedding dress. The majority of brides will only wear their wedding dress once, so a second-hand wedding dress will usually be in exceptional condition. There are some bridal boutiques across the country that offer pre-loved wedding dresses at a discounted rate.
Some specialist bridal charity shops also sell pre-loved wedding gowns with the money going to support their cause! Once purchased, simply contact a local seamstress to help you get the perfect fit.
Plus, when you are finished with your wedding dress, you can then sell it on to another eco-conscious bride or donate the dress to charity!
Invitations and Stationery
Save on paper and cost by going entirely or partly virtual with your invitations and stationery. Setting up a free, wedding website is an easy way to invite your friends and family to your wedding without splashing out on expensive stationery. You can also keep guests up to date on any changes to plans or while you make decisions through the planning process.
Where you would like wedding stationery to be part of your wedding and the budget allows, make sure you check the stationers eco-credentials. Do they use recycled materials in their work and can the end product also be recycled? Are their materials ethically sourced? etc.
Flowers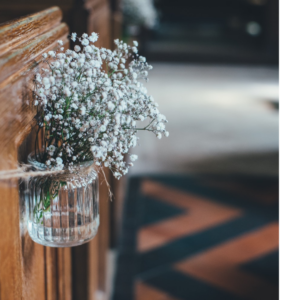 Flowers are synonymous with weddings and it's likely you'll want a few floral elements for your special day. When you are considering this element, try to investigate in-season British florals, avoiding the imported blooms. Or, consider using locally sourced flowers such as from your own or a friend's garden. You can also make a difference in the way you choose to present your florals. Standard floristry foam is not biodegradable so swap that for a pretty vase to make a small but effective change.
You can also consider the alternatives, instead of cut flowers for example, you can head to a garden centre and choose potted plants to be your centrepieces. Your bridal bouquet could be faux flowers, so they not only look incredible on the day but last forever as memento.
You could also include a sweet touch of seeds or seedlings as a wedding favour for each of your guests, encouraging them to plant it as a memory of your day.
DIY Elements and Family Support
While there will be elements of your wedding day that require the help and services of wedding professionals, other elements may be cheaper and more eco-friendly for you to have full control over.
Consider the elements such as food, décor, cake, flowers (etc) that you or your closest friends and family can help with for the day. You may be surprised over the hidden talents that come out when your family supports your wedding planning.
Whatever your budget for your day, there are simple things you can do to make it a more eco-friendly day. The simple changes and compromises are usually the most effective. If you are ready to start planning your stripped back, eco-friendly wedding, the Guides for Brides wedding planning tools can help you stay organised and stick to your budget.