We had a better wedding than we ever dreamt possible in the middle of a pandemic.  
Like many soon-to-be weds with a date booked in 2020, we looked on the year with excitement, for this was going to be 'our year'. And then we went into a national lockdown. 
It was a crushing feeling to witness friends move dates and plans fall through for others over the summer months for their special days. With a wedding date set for September, we thought the pandemic would have blown over for us, we assumed we would be 'the lucky ones' until September drew near and we found ourselves crying over our own plans too… Just let me tell you. 
We weren't even dating when I knew I'd be marrying Em. We met on a fateful valentines evening 2 years ago and with every "chance encounter" for the following months she quickly became the jackpot and I just had to win her. Fast forward 4 months and 5000 miles, we dived headfirst into a long distance relationship. Em had made plans to move to India before we had met, and so I waved her off for a year and a half. The distance was challenging but it only made me want her more. I proposed within the first few seconds of 2020 on a rooftop in India and we set the date to be married 9 months following in September.  
When Emily finally arrived back in England a few months later, the first lockdown was announced, and we were thrown in at the deep end in terms of spending time together. Literally, every day. I moved into their family home just next door to where she lived on the farm, so life was full on but we both loved it, making up for lots of lost time! And so we got started on the [ever changing] wedding planning. We were so sure this time last year that, "by September this will all be over" and "we'll have everyone at our wedding to see out such a rubbish start to 2020".  
We made a lot of decisions in our stubbornness to make the day happen, like clean, clear and repair a massive barn to accommodate our mass of guests, (which at the time of planning was reaching around 350) we hired a band, ordered food, even cleared space for parking, all with this big number of guests in mind. September swiftly crept towards us and the restrictions on weddings were not giving way. Em and I had to make a couple of extra guest lists during this process. It started out with reducing it to just 100 guests, then 50, then 30, then 10. Every updated guest list we wrote brought deeper heartache and we hoped that we wouldn't have to actually put any of them in to affect.  
We had a plan from the start that just felt like it was falling apart with every governmental update; yet we had this resolve that we just wanted to be married, no matter who else was going to be there for it! 
I'm making it sound like we really had to sacrifice a lot and that our wedding was a shortfall to what it could have been; but that just isn't true! I'm so proud of Emily because of the way she conducted herself through all the changes and sacrifices, (we all know that every bride has been planning their wedding for as long as they can remember!) but in reality, we sacrificed so little and gained so, so much. As chance would have it, our wedding landed in the 2-week window of when the rules for weddings were relaxed ever so slightly, meaning we didn't have to use the '10' guest list but we were able to have a strong 30 guests. We even managed a small band to lead us in worship. We had amazing caterers that served delicious food, beautiful bridesmaids and awesome groomsmen. It was the perfect wedding.  
In order for us to enjoy our day in a new way we had to make peace with the fact that we were not going to have a 'big day'. For us, this meant laying down this idea that we needed to entertain a large number of guests. We had to change our attitude from, "but we DESERVE a big day" to "we don't actually even deserve each other" but somehow "we get to be the kind of couple that are in love and want to be together forever." This sense of gratitude shifted our perspective hugely. It made us realise we were the luckiest people in the world (and we still feel like we are!).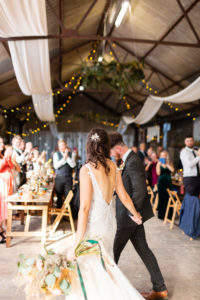 Suddenly the pressures of having this big day didn't matter so much to us anymore. We started to get a new dream. The small group of people we did get to have at our wedding rallied around us to make it the most special day for us. We felt the love and empathy from everyone – rather than being bystanders at the wedding they MADE our day for us, taking up roles and jobs to show their support. Because everyone there was so invested in us, they filled the gaps we might have felt with smaller numbers. We were able to book in an amazing videographer to capture the day for others who could not be there which we wouldn't have been able to afford had we had 300 guests. Not only did we feel extremely loved and supported by those in the room but the volume of love and support we had from our friends virtually was huge, it felt like we shared the day with them as much as anyone else.   
And so to anyone who would be tempted by the idea of postponing their wedding day to include a bigger crowd, we would encourage you to consider just how special a small wedding could be. With the intimate numbers we were able to pay attention to smaller details and finishes that we might have overlooked had we had larger numbers. It's the small details that often make it all so memorable. 
No one could deny how special a day it was and even after all the planning disappointments we wouldn't change a thing! We are so happily married, and I can't imagine postponing our wedding to sometime in 2021. Not a chance.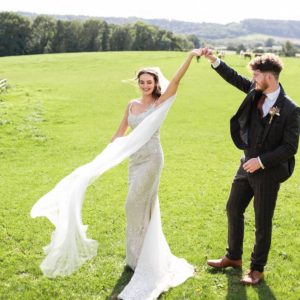 All photos by Joshua David Photography