'CHARLES AND HIS DOG'
It was 2002 and Zara was moving to Oxford to begin life as an undergraduate. It felt right to gift her with something that would truly demonstrate my love for her before she left London, fell in love with the clean air, and 'Charles and his dog', never to return.
Zara has always been a person who appreciated the thoughtful things, the subtle, the sentimental. It didn't have to cost a month's wages, but it needed to have significance and symbolic value. I was 19 at the time, and just about to commence the second year of my degree. I remember being sat, pondering, by my 2GB hard drive PC (my current iPhone storage is way bigger than this! Oh, how times have changed!). What gift could I possibly give her as a sign of my relentless pursuit for her heart?
SHE DUMPED ME!
So that you appreciate a little of our relationship history, Zara and I had grown up together and lived in East London during the same time period. Our families moved to Essex and we both ended up at the same local church. We tried the 'boyfriend-girlfriend' thing but Zara, at the tender age of 17, did not like the "label" so she dumped me within a week! True story. We did, however, become very good friends and spend hours upon hours on the phone.
THE BOX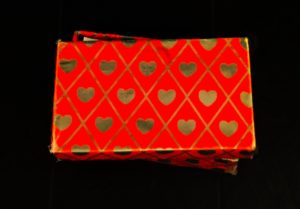 Anyhow, it was now time to work on my masterpiece before she left for pastures new. Out came an empty shoebox, together with the golden-heart covered red wrapping paper, cellotape, tissue paper, and felt pen. In went the red, white and yellow roses. In went the photos. In went the scented love letter in which I fully revealed the secrets of my heart- oh yes!
The box was complete.
It was no longer a worthless shoebox. It was now a treasure chest. This box had gone from rags to riches and was soon to be handed over to my 'friend'.
I covered the inside lid with a picture of myself to remind Zara that I was "watching" her (I joke!). I gave her the box, asking her to look after it. She promised. I trusted. Then it hit me! How would all of this play out? The box contained a letter that revealed my deepest feelings, my darkest insecurities…me. The box said so much to her about how I felt. Did I say too much? Was I too open? I felt incredibly vulnerable but not enough to deter me.
3 YEARS AND A FEW LOVE LETTERS LATER
We were both in our final year of university and officially 'courting' ('Charles and his dog' lived solely inside my mind, thankfully). Zara kept her promise and looked after the box. This box meant so much to me, to us. In it contained feelings from the very depth of me…but it hadn't finished the work I had created it to do.
I asked Zara to accompany me on a drive one December evening. It was cold, dark and the streets were quiet. I asked Zara to bring the box along to her bemusement, but she did nonetheless. Parked up in an empty car park I stepped out of the car and asked her to join me. I wanted to show her something. She was perplexed and I was
anxious. Anyone within an inch of my body would have heard my heart beating; my shivers a mixture of cold and nerves.
I asked Zara to open the boot. She obliged. She followed the neatly-placed instruction and searched for the bible verse (Proverbs 18:22) using the conveniently-laid Bible. She followed the next cue, opening the sacred box to find a small, cream-coloured box with a burgundy ribbon. It was empty inside other than the words, "tear at the picture." "Huh? What picture?" she asked.
I gestured towards the photo which covered the inside lid of the treasure chest that she had looked after for 3 long years. "The picture of you?" she asked hesitantly, not wanting to tear at the box I'd asked her to guard.
She tore away to reveal the big question I had waited 3 years to hear her answer. The image of confusion, joy and surprise on her face was meme-worthy. "WILL YOU MARRY ME?" was written in reassuringly bold, font. As she turned in utter disbelief I was knelt down with a ring in one hand to receive her exuberant "Yes!"
I had asked Zara to marry me in 2002, she just didn't know it. As I pondered on what parting gift would be most appropriate, I realised that the most significant gift I could give her was my heart. So, I gave it to her, sealed in a box, until one day.
How did I know she was the woman I would marry? The truth is, when you know, you just know.
Our Marriage Week challenge to you: Love is a verb, so this Marriage Week, take the opportunity to be intentional with your spouse. Love each other like you're trying to gain each other's hearts for the first time.