Pandemic:
As the country reminisces the official month and day lockdown started last year, it brought back memories of not just a turbulent and uncertain time myself and my husband went through last year, but of thanks and gratitude to the divine.
23rd March, when: most of my wedding cards were left undelivered as the first national lockdown was announced; the postponement of our April wedding date and services; hundreds of marriage-postponement messages sent out to everyone we invited so far and was still yet to invite… it was such a chaotic and uncertain time! The day before our new wedding date in September is when I realised that the wedding was happening.
Our ideal wedding was to have a spiritual Sikh wedding, with the marriage ceremony being aligned to our faith as much as possible. We originally planned our wedding with hundreds of guests: family, friends and the saadhsangat (spiritually elevated souls in the presence of Guru Granth Sahib – The living Guru /Master of the Sikhs in the form on divine scriptures). As our faith promotes the importance of obtaining blessings from the saadhsangat, and singing the Guru's hymns collectively, we strongly desired this as practising Sikhs. This was not out of necessity, which is usually the case in South-Asian weddings, but because of our love for our faith. However, you could say that Covid-19 inhibited us from having our ideal wedding in this regard as we cut our guest list short by a whopping 90%! As you can imagine, this was incredibly difficult and disheartening at the time.
So, came our wedding day: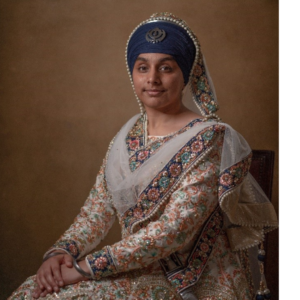 As a practising Sikh I followed what the Sikh code of conduct says a bride should be: no jewellery (including the wedding ring and choora or 'wedding bangles)', no make-up, no henna, no waxing or shaving of hair, and none of the many celebratory days that usually take place before the wedding day. My husband wore the traditional Sikh warrior attire (Baana) rather than a suit or Indian dress. Whilst some of these traditions are rooted in different faiths and cultures, as a Sikh we wanted to follow what my faith teaches us, which does not delve into these practices. I fully embraced my natural beauty as I believe that there is nothing wrong with your authentic and raw self as you are a manifestation of how the divine consciously made you. By accepting it brings a new level of liberating freedom in a society where women (and men) are expected to look a certain way on their wedding day. We truly felt confident on our wedding day looking this way!
For the ceremony:
One anxiety on our minds was whether we would be able to have singing of spiritual hymns before our Anand Karaj ceremony. We were so relieved that the Gurudwara (Sikh place of worship) allowed us to have pre congregational singing of spiritual hymns from Guru Granth Sahib as planned for our original date, which given the circumstances we felt so grateful for. Instead of sitting in a separate room waiting to be called (as most South Asian weddings practice), I sat in the congregation, whilst immediate familial guests were being served refreshments downstairs. Even though only a small number of the saadhsangat were singing, it felt so blissful.  I only got up to eat and came back in time for the wedding ceremony.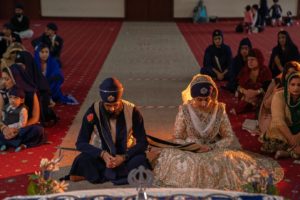 After sitting down in front of Guru Granth Sahib, the Pala ceremony started where a ceremonial scarf that traditionally is given to the bride from the laps of the groom by the father. However, contrarily to tradition, my mum gave my Pala as she has been both a mother and father figure all my life. No differentiation between genders is heavily promoted in the Sikh way of life and this is what nurtured this decision further. Ultimately, the Pala ceremony has a deeper spiritual meaning of taking the hem of the divine as the optimal anchor of support and the true relation for both the groom and bride.
The whole experience was amazing and just kept getting better. As part of a Sikh wedding, we face Guru Granth Sahib and walk around our Guru during the singing of the Laavan (4 rounds of the ceremony) as a statement to the divine that our lives will always be centralised around You, God. Hearing and contemplating the divine words through recitation and singing of the Laavan intensified the spiritual ceremony as I walked around Guru Granth Sahib; all worldly affairs are forgotten about, for example you do not notice the number of guests, and your mind centralises on meditating the name of God as you walk around.
My family were not in the best financial position to provide an expensive lavish wedding and this is where the wider Sikh community came to help. Through their guidance, we chose Singh Sabha Gurdwara in Derby (home of the first National Sikh & Holocaust Museum), for our ceremony who were happy to hold our wedding amidst the pandemic too. They also recently constructed an affordable venue for marriage ceremonies, where we had cake and a catering service aligned with the Sikh code of conduct of serving alcohol-free and meat-free food. Not having to deal with the typical financial constraints of a wedding was relieving, reduced the stress and allowed my family to enjoy the ceremony too.
We finished the day with an intimate get together after at my new home with my husband's family as well. It was truly special being surrounding by new family too, with homemade pizza and cake and a lot of love.
Having a pandemic wedding showed me that the ultimate spiritual wedding is with the One (God, Vaheguru). When we prioritise Vaheguru, when we see him nearby, accept that our lives are under the control of the one, the day becomes about the divine. Flashback reminder here: my husband and I never enquired into each other's backgrounds as our spiritual goals aligning together was and still is enough for us. We also did not talk for two and a half years! Even though this sounds radical, our love for the divine was all we needed to initiate our journey together.
From having an intimate and simple Anand Karaj, I truly valued Vaheguru more. Everything was being done the way Vaheguru wanted, not us, it was all part of a bigger game of the divine. It truly was a liberating feeling, accepting hukam (the divine's will) and I think everyone was surprised how stress-free I was on the day. Even though we missed the blessings from the holy congregation, we endeavour to still get this, but the true blessings we needed was from the divine.
A Naked wedding to remember!