Let's start this story when Aled first asked me out. We had been housemates in Cyprus for a year and a half and had become the best of friends in that time. Three weeks before I was due to return home to the UK, Aled asked me out on a date. I was overjoyed, but couldn't help but acknowledge the terrible timing of it all. Nevertheless in my remaining three weeks on the island, we squeezed in as many dates as we could. We knew we wanted to be together and were both committed to do whatever it takes to make the relationship work, so we embarked on a journey that many are too afraid to dare…a long distance relationship.
Being in a long distance relationship forces you to live in a constant countdown. We were always counting down the days till our next reunion, counting down the days until Aled would move back to the UK and eventually we began the countdown to our wedding. After getting engaged we still had 10 months of long distance to go. So I began the huge task of wedding planning alone.
I was that girl who started planning her wedding at the age of six. I used to draw sketches of what my dream bridal dress would look like, and think about the specific shade of green I would have as the theme colour. Depending on what cheesy song was top of the charts, I'd plan the first dance (I had a huge crush on Gareth Gates at the age of six, so his cover of Unchained Melody was the favourite at the time).
As a bit of a perfectionist, it wasn't long before the organising of the big day became overwhelming. There were just so many details to think about. The to-do list seemed to grow all the time and as the planning went on, more friends and family would have an opinion about what I should do and how I should do it. I constantly found myself in conversations with people who would say 'it's your big day, do what you want to do' but then they'd proceed to tell me what they want me to do. I felt dictated by a rulebook of tradition and pleasing others.
Coming from a broken family, there was the added anxiety worrying how my family will behave all in one room for the first time in many years.
It all became exhausting, what I was expecting to be a joyous, dream-fulfilling experience turned into a massive burden. What I thought was my dream wedding was looking more like some ridiculous circus.
Then comes a global pandemic six months before we were due to tie the knot. At the time we were led to believe the covid crisis will be over by the summer, which is when my fiance was due to fly home. So I tried to continue making plans, but as the weeks and months went by and we witnessed the devastation of the virus, we were forced to consider postponing our wedding.
One thing that makes a long distance relationship doable, is knowing the end goal. Knowing how long we were going to be apart for and what we were working towards at the end of that time. For us the end goal was getting married. Having the date of our special day fixed in our minds, got us through the tough and lonely moments of being 2,000 miles apart. So having a question mark over that date was heartbreaking.
We toiled with the decision for a couple of weeks, do we postpone until we can have the big, fairy tale day? Or do we get married on that date anyway, even if we can only have 5 guests?
It came to a point where the decision was taken out of our hands as our wedding venue told us to cancel. I was expecting to feel upset, frustrated, disappointed, robbed, but I actually felt a huge weight lifted off my shoulders. By this point, with all the twists and turns of wedding planning whilst in a long distance engagement and a pandemic, I felt relieved. For the first time I embraced the adventure of it all and we were left with this wonderful opportunity to throw out the rulebook, and truly have a day that is entirely about us.
The replanning commenced. Aled came home to the UK and we were able to focus our attention on preparing for marriage and making up for lost time, rather than scrambling around trying to put together all of the last minute wedding details. With only a few weeks to go, family and friends kept asking what we were going to do and we just replied 'we're going to get married, we might be wearing jeans, we might have no guests, but we're getting married'. The government kept changing rules for weddings, our venue changed multiple times, we only made the guest list four weeks before the day. The whole experience was mad, fun, comical, freeing and enjoyable. Every obstacle in our way, we just jumped over and laughed. We were just so excited to be husband and wife, regardless of the craziness around us.
Two weeks before 'I do', a friend of mine who was making us a cake, phoned to ask where she should deliver the cake to, I replied 'Ooh I don't know actually, any ideas where we could get married?'. Well she was stunned at my response, I think the calmness in my voice shocked her more than the words I was saying. Surprisingly, I felt more peace and had more fun when we were last minute planning a micro-wedding in a pandemic, than when I was organising what I thought was my dream wedding day.
In those last two weeks, it all came together.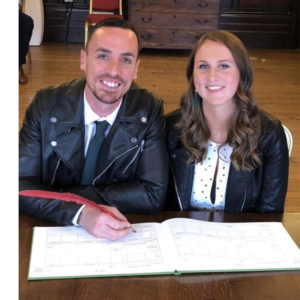 On the day itself, we rocked up in leather jackets. I didn't have a bouquet. My nails were painted green, because it's my favourite colour. We didn't invite any long-lost cousins to keep the family peace. We opted for a white chocolate and raspberry cake instead of the fruitcake our parents wanted. We played a slightly unorthodox playlist of our favourite Bruce Springsteen songs. We just did whatever the heck we wanted and it was amazing.
Standing in front of 25 people, who are our biggest supporters, our closest family and friends, it was a beautiful and warm moment. Without the huge pressure of saying our vows in front of a hundred people, exchanging our rings and declaring our love was an incredibly intimate and profound experience. It didn't feel like a performance, there was nothing to distract us from the most important time of our lives. It was just us, being us, getting married.
When I became a 'Mrs', my last name changed to 'Power'. Which I think almost symbolises the whole wedding experience. By throwing out the rulebook, shaking off people's opinions and even re-evaluating my own hopes and dreams; I had the power to be myself and to have a greater wedding day than I had ever expected. We were amazed at how supportive and understanding people were by our decision to have a small wedding, and we even received more money in wedding gifts than we had spent! My advice to anyone considering getting married or planning a wedding: be free to do what you want!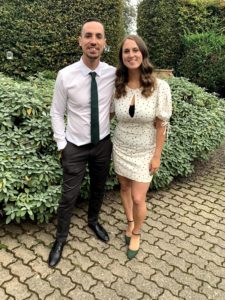 Our wedding day!