"Will you be my husband…I mean WIFE" I asked my then-fiancé, Manning, foolishly on November 6th, 2019. Accidentally calling my girlfriend a man wasn't the best start to our marriage journey, however maybe it was indicative of things to come. The unpredictability of the next year was certainly far more extreme than most first years of marriage, but whilst it's certainly thrown its fair share of challenges our way, we've found that the strong foundation of friendship we built in the year before set us up to win.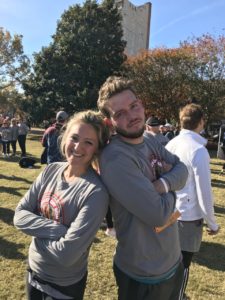 The two of us were involved in a year-long leadership course which we both felt would be better served with a year off dating, and so when we found, to no one's surprise, that we had developed feelings for each other, we had to pace out the "get to know you" stage of our relationship for another 6 months before we could officially start dating. Most people would question our sanity in waiting this long, however to this day I feel like it was these months of friendship-building that gave us the "endurance" to get through the COVID-19 lockdowns together after less than a month of marriage.
We often describe those months as long distance despite living in the same city and seeing each other on an almost daily basis, simply because the nature of our relationship at the time didn't allow for us to develop a connection with each other on a purely physical level. We developed personal jokes, creative ways to spend time with each other, and learned how to have good and engaging conversation when there was nothing else going on. As I was driving around the city of Hereford delivering pizzas, we would talk on the phone for hours about…not really anything in particular! Whilst this sounds like the early stages of any relationship, we had to commit to this style of friendship for over 6 months, where other relationships may have developed into something more physical before then. I am not saying this is the only or best way to do relationships, but due to a commitment we had made at the start of the year, we had to grow and foster our relationship within certain parameters that were unusual.
Fast forward to the month and year that will probably live in infamy for all of us for the rest of our lives, March 2020. Manning and I had just arrived back in Raleigh, North Carolina from our incredible honeymoon in Hawaii and had no idea what was about to happen. Sure, we'd seen a few people in the queues at the airport wearing masks but we just thought they were a hyper cautious minority that would've worn a mask if their neighbour had a cold. We excitedly spent the next week moving into our new apartment, dashing to and fro the big department stores to get all we needed, ready to run into married life and get busy with the season ahead. And then, well you know what happens next. On March 11th, COVID19 became recognized as a global pandemic and the world shut down.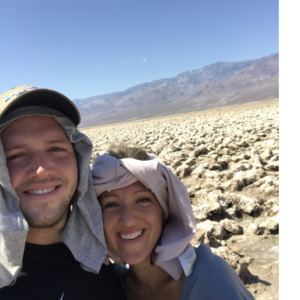 Now let me just say, living in the US during this pandemic, we certainly didn't have it as bad as the majority of the world, and we won't pretend like we did. However, going straight into a government-forced lockdown with your new wife less than a month after getting married was definitely a different challenge than we were expecting to face. Usually after you first get married, you're both preoccupied with practical things and getting back to work so there's less time spent 1-to-1, but in this case, we went from seeing each other for a few hours at a time and living 25 minutes away from each other, to being with each other morning, evening, and night.
As much as I love my wife, it is challenging to be with the same person 24 hours a day! Whether it be finding a problem with the way they do small things, running out of things to do together, or simply needing your own space, it's something that definitely requires an adjustment. However, instead of feeling like we were on the back foot, we referred back to the months of intentional friendship from the year before and decided to take on this lockdown with the tools we had acquired during this time. It turns out they translated well to this bizarre situation.
Firstly, we could simply engage in conversation for long stretches of time despite being with each other non-stop, this was fostered by the long nights in my Fiat Punto delivering pizzas around Hereford with Manning on the phone. Secondly, we made creative ways of spending time with each other, much like we had done before. We bought a Wii and played Mario Kart well into the night, we did Mr and Mrs quizzes straight off of YouTube, and we committed to running together (this wasn't my decision). Thirdly, we had fun! We made sure we laughed together a lot, and this really made the long days go by that little bit quicker.
It may seem elementary, but friendship was the foundation of our relationship which was the foundation of our marriage. Friendship with your spouse gets you through the challenging, painful, or just downright boring. Commit to friendship, commit to marriage and you can get through the strangest of seasons. I love my wife, and I love my best friend. They just so happen to be the same person…