Friday the 9th of August 2019 feels like a lifetime ago. It was a time before the terms 'quarantine', 'social-distancing' and 'furlough' were on the tips of even the most pessimistic tongues (back then I definitely wouldn't have even known what 'furloughing' meant).
Although it feels like an era has passed since then, in reality only 244 days have passed between that date and today, which means it is precisely 8 months to the day since Kathryn and I embarked on what was then our second date.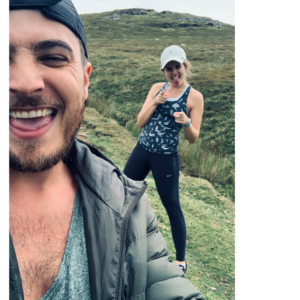 We had been getting to know each other online since mid-July and had our first date in our geographical 'middle ground'; a lovely afternoon of sourdough pizza and a long stroll along the banks of the river Kennet in Reading. We laughed and compared stories of social awkwardness. I bragged about meeting the Queen once, she bragged about coming top of her class at uni – apparently, we had met our matches!
For our second date, those 8 months ago, I found a beautiful pub sat on the bank of a sleepy canal and it was there, sat on a soggy wooden bench that we first spoke about what our future might look like, even touching on the possibility of marriage. I know what you might be thinking:
"Whoa steady on, isn't that a bit full-on for a second date?" – and you know what? You're not wrong!
Up to that point I had spent the previous few years navigating singleness with a simple mindset with regards to my love-life; after a few dates, if we couldn't imagine spending the rest of our lives together it felt like a kindness to stop the relationship progressing than to waste any more of each other's time. This means relationships effectively ended before they even began even when there was a strong physical attraction between us.
That might seem like an overly radical approach, but I wasn't looking to begin nurturing a relationship that might have a limited shelf life, for the sake of my own heart and the heart of the one I was with. In my search for this sort of stable long-term partnership, I felt that a few dates would give us enough time to see if there was something more than chemistry. It was important to see if the raw materials for a healthy future existed between us, things like complimentary life trajectories, shared values and expectations for family life.
So in my dating life, I met some wonderful, intelligent and beautiful women, but up until that August evening 8 months ago I hadn't yet experienced the unmistakable hard-to-put-into-words harmony between souls which I was searching for – I did however have some cracking times on dates at restaurants, theatres and thrift stores that are not bad memories at all!
Let me bring you back to the same canal-side bench I mentioned before only this time half a year down the line. Kathryn and I braved the wind and rain of storm Ciara to revisit the place that we first spoke about marriage.
In those 6 months our relationship had widened and deepened, as did the extent of our 'forever conversation' and we couldn't avoid the inevitable draw we both felt towards tying the knot.
Marriage simply makes sense to us as the logical destination to any romantic relationship. To us, a wedding isn't just another checkpoint a couple reaches after exhausting the possibilities of 'single' life, instead a marriage feels like the starting block: the formation of a powerful and unbreakable bond between two people who are committed to being committed to one another. The beginnings of a life shared. To me, that shared life finds its perfect expression in marriage. I would put it down to a mix of my active Christian faith and a childhood spent around solid marriages as to why I think this, but Kathryn's experiences of marriage are completely different to mine – yet, we share the same heart that this is the way to go for us. For us to merge lives with one another financially, domestically, sexually and so on, we want the security to know that we are both in it for life.
Now back to that stormy February afternoon in Berkshire. We had been gifted a brief spell of calm weather as we left the bench and crossed over a little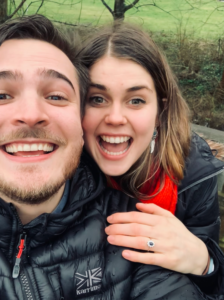 picturesque bridge, the sound of the rushing river flooding beneath us helpfully covering the sound of my heart beating as I reached into my pocket, pulled out the ring box and planted my knee on the soggy ground. I'd love to say I recited a poem or had prepared an elegant proposal speech, but I actually said very few words. We had spent the last few hours laughing and reminiscing over a hearty pub roast- there was nothing more I needed to say.
We know that to many people it feels too soon, that marriage is a step for couples who have spent years living together, travelling together, weathering storms and testing their connection. But in my mind, my relationship with Kathryn started years before I even first spoke to her. I'd spent the last few years praying, making hard decisions to seek this sort of relationship and all the while reserving a space in my life for a person to share my everything with.
I end with a third date that holds an odd mixture of impatient distance and slightly uncertain immediacy. The 10th of October, our wedding date, feels like a day too far in the distance but still may end up as another 'Covid' cancellation. Our wedding plans hang in the balance. What will the world look like on that date? No-one truly knows, but one thing is for certain; whether it's in a church surrounded by 200 of our closest friends and family or whether it's over webcam in quarantine, Kathryn and I will be beginning our married life together. No virus, no lack of a regular 'wedding' will prevent us from committing to a life together.